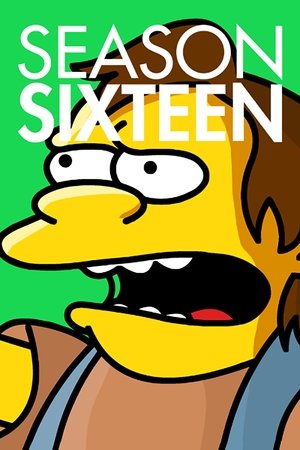 Season 16
(2004)
The Simpsons' 16th season began on Sunday, November 7, 2004 and contained 21 episodes, beginning with Treehouse of Horror XV. The season contains six hold-over episodes from the season 15 production line.
---
Episodes List
Ep.1

Treehouse of Horror XV
Air Date: 2004-11-07
Ned Flanders' head injury gives him the power to predict others' deaths, Bart and Lisa play detective when a string of Victorian-era prostitutes are murdered by Jack the Ripper, and the Simpsons go on a fantastic voyage inside Mr. Burns' body to save Maggie.
Ep.2

All's Fair in Oven War
Air Date: 2004-11-14
Marge gets her kitchen remodeled and the dishes she makes inside it get rave reviews. The suggestion of Ned Flanders leads her to enter a cooking contest. However, Marge realizes the competition is harder than it seems. Meanwhile, Bart finds Homer's vintage Playdude magazines and decides to adopt the lifestyle he sees within the articles.
Ep.3

Sleeping with the Enemy
Air Date: 2004-11-21
Marge finds Nelson and acts as a mother figure towards him due to her children's loss of interest in her. Meanwhile, Lisa gets teased about her big butt, and becomes obsessed with her weight.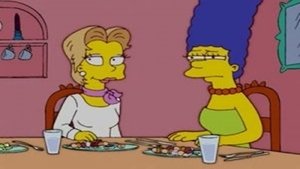 Ep.4

She Used to Be My Girl
Air Date: 2004-12-05
Marge meets up with a former high-school pal who is now a famous news anchor, and she wonders if she made the right life choice.
Ep.5

Fat Man and Little Boy
Air Date: 2004-12-12
When Bart writes slogans on T-shirts, he catches the attention of Goose Gladwell, a gag-gift entrepreneur, and soon becomes a T-shirt mogul; Homer feels he no longer has a place in the family when Bart becomes the breadwinner.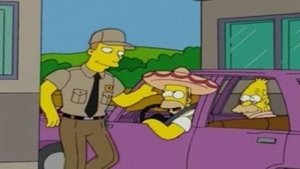 Ep.6

Midnight Rx
Air Date: 2005-01-16
Homer, Grampa, Apu and Flanders travel to Canada to buy sorely needed prescription drugs with fake Canadian health-care cards.
Ep.7

Mommie Beerest
Air Date: 2005-01-30
When Marge discovers Homer has remortgaged the house to help Moe's bar, she takes over as landlady. Little does Homer know, Moe and Marge are a match made in pub heaven.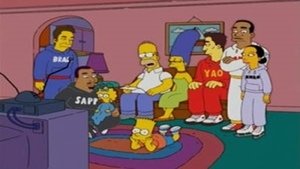 Ep.8

Homer and Ned's Hail Mary Pass
Air Date: 2005-02-06
Homer's impromptu dance at a carnival leads to a job choreographing victory dances for sports stars Tom Brady, Warren Sapp, Michelle Kwan, Yao Ming and LeBron James.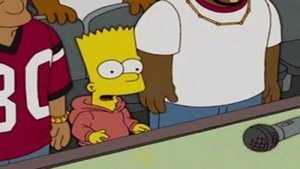 Ep.9

Pranksta Rap
Air Date: 2005-02-13
Bart fakes his own kidnapping to get out of being punished for going to a rap concert, but the ruse goes too far when Milhouse's father is implicated as the kidnapper and Chief Wiggum sees this as an opportunity to make a name for himself as a competent police officer.
Ep.10

There's Something About Marrying
Air Date: 2005-02-20
Springfield legalizes same-sex marriage to increase tourism. After becoming a minister, Homer starts to wed people to make money. Meanwhile, Marge's sister Patty comes out as a lesbian and reveals that she is going to marry a woman named Veronica.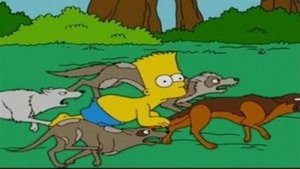 Ep.11

On a Clear Day I Can't See My Sister
Air Date: 2005-03-06
Lisa does what every little sister has dreamed of - she gets a restraining order put on her big brother. Bart is forced to live in the back garden, but soon realises the joy of communing with nature.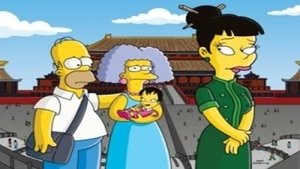 Ep.12

Goo Goo Gai Pan
Air Date: 2005-03-13
Selma has a severe hot flash while giving Mr. Burns his driving test. Dr. Hibbert explains that Selma is experiencing the onset of menopause. Selma, decides she wants a baby rather than grow old alone. Adoption is suggested, but the Springfield orphanage is empty. Lisa suggests adopting a baby girl from China - but when the Chinese government only allows married couples to adopt, Selma writes down Homer's name as her husband.
Ep.13

Mobile Homer
Air Date: 2005-03-20
When Marge starts economising, Homer thinks he's being left out of the family's important financial decisions, so splashes out on an expensive camper van and sets up camp on the driveway.
Ep.14

The Seven-Beer Snitch
Air Date: 2005-04-03
After Shelbyville accuses Springfield of being hicks, Marge convinces the townspeople to fund a Frank Gehry-designed concert hall, which is then converted to a prison when the concert hall goes bankrupt on opening night. Meanwhile, Bart and Lisa investigate Snowball II's recent weight gain.
Ep.15

Future-Drama
Air Date: 2005-04-17
Through Professor Frink's future machine, Bart and Lisa see their lives in the year 2013, where Bart steals Lisa's chances at going to an Ivy League school in order to impress a skater girl named Jenda while Homer (now separated from Marge and living in an underwater apartment) fights Krusty the Clown after Marge begins dating him.
Ep.16

Don't Fear the Roofer
Air Date: 2005-05-01
The Simpsons' roof springs a leak when the perfect storm hits Springfield. And when Marge asks what type of father can't keep a roof over his family's head, Homer tries to fix things up, but falls through the roof. Sick of being unwanted, Homer befriends a man who works as a roofer. However, no one else can see him and Homer's insistence that the roofer does exist prompts everyone to think he has gone crazy.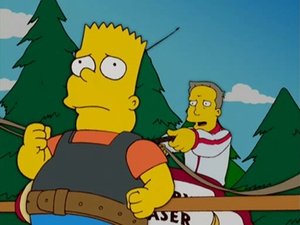 Ep.17

The Heartbroke Kid
Air Date: 2005-05-01
When Bart endangers his health by bingeing on vending-machine food, the Simpsons turn their home into a hostel in order to afford sending him to a forced starvation facility.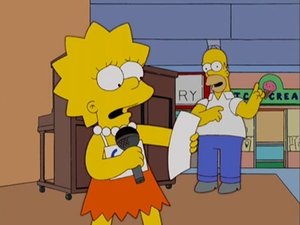 Ep.18

A Star Is Torn
Air Date: 2005-05-08
Lisa agrees to enter a Krusty-sponsored "Li'l Starmaker" competition and panics when another contestant (guest voice Fantasia Barrino) outperforms her.
Ep.19

Thank God It's Doomsday
Air Date: 2005-05-08
Homer sees a movie about the end of the world and fears the same thing will happen in real life after seeing a chain of random occurrences (celebrities ["stars"] falling from the sky, raining blood, a man in a realistic devil costume) and doing a complicated math equation that predicts the end will come on May 18th, but when the end does not come, Homer discovers a flaw in the equation and ends up in Heaven where he meets God and learns that God is planning The Rapture.
Ep.20

Home Away from Homer
Air Date: 2005-05-15
Flanders rents a room to two college girls who, without his knowledge, use the spare room to broadcast live softcore pornographic web videos of themselves. Upset that no one in town told him this (and that Homer was the one who told everyone), Ned moves to the seemingly perfect town of Humbleton, Pennsylvania, while a brash coach moves into Flanders' house and begins harassing Homer the same way Homer harassed Ned.
Ep.21

The Father, the Son and the Holy Guest Star
Air Date: 2005-05-15
Bart gets expelled from school and transfers to a Catholic school, where a hip priest named Father Sean tries to convert Bart and Homer to Catholicism, which worries Marge when she believes that Catholics do not go to the same heaven as Protestants and discovers that Catholic women do not use birth control.